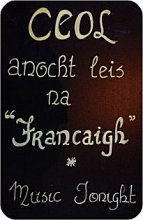 Two miles away from Ferriter's Cove B&B is the village of Ballyferriter (Baile an Fheirtéaraigh), one of the most popular destinations for Irish language summer-school students in County Kerry.

Ballyferriter is a small village on the scenic Slea Head Drive, in Corca Dhuibhne (an old name for the local area) on the western end of the Dingle Peninsula. The village is named after the Ferriter family (Feiritéar in Irish).

The village museum, West Kerry Museum – Músaem Chorca Dhuibnhe, provides information on the history, archaeology and geology of the area.

The three pubs in the village, Tigh Uí Mhurchú (Murphy's Pub), Tigh an tSaorsaigh (Sayers Pub), Tigh Uí Chatháin (Kane's Pub) and the hotel Ostán Ceann Sibéal have regular traditional music sessions and serve food during the tourist season.

In accordance with an Irish Government order all maps and signs for Ballyferriter must now carry the Irish name for the village – Baile an Fheirtéaraigh.