Some testimonials from some of our guests
---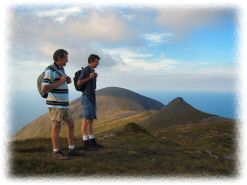 "If you need to relax and be looked after following a day of hiking or travelling, we would really recommend Ferriters Cover. With friendly and helpful people, comfortable rooms and great food, Ferriters Cover provides it's visitors with a lasting impression of how B&Bs should be run. We are delighted that we can offer our walkers a place like Ferriters Cove to stay."
Hillwalk Tours – Hiking the Dingle Way

---
Some testimonials from TripAdvisor
---
"Wonderful hosts!"
Our hosts are just wonderful-generous, friendly, helpful, and a delight! They gave good recommendations for dinner and served a lovely breakfast. Tea, coffee, and sweets are available all day long. And the location! Quiet, peaceful, and close to Ferriter's Cove with views of the ocean, hills, and mountains nearby. An excellent place for a restful retreat.
Leslie C



---
"Clean, Cozy, Convenient and Classic"
We found this location because we wanted to be close to Ballyferriter and Gortadoo. These locations are near Dingle (only about 15 min drive). We didn't want to lodge in Dingle – and wanted something quiet and close to our historical family property. After a long drive from Dublin and busy cities – this was a perfect place to relax. Margarette and Padraig have a very clean, cottage in a beautiful area of Ireland many will miss. It is walking distance to Ceann Sibeal Links golf course which serves a nice lunch with good conversation overlooking beautiful landscapes. So very glad we stayed here for three nights. We had a family of 4 – where they happily accommodated us for a good price.



---
"Great hospitality. And don't overlook the unusual ocean views"
I've stayed here twice, once in 2013 and once in 2015. Margarette and Padraig are super hosts, they cook a great breakfast and are eager to advise you in their travels. Their property is in a special but seldom photographed section of the Dingle Peninsula, on a piece of land that juts into the Atlantic, between Clogher Head and Sybil Head. A walk to the end of their land (which includes a very old fort) was a thrill on a windy day in early spring, watching the waves crash on the rocks and splash 200 feet in the air.
We also took a hike up Sybil Head, which is visible from everywhere but seldom visited. Padraig gave us some advice on how to get there and the views were spectacular. One of my 16 year old son's favorite parts of the trip.
---
"Beautiful view great breakfast"
We were passing through on our tour of the Dingle Peninsula and inquired locally for a room. We needed a triple and this was available. Room was adequately sized and comfortable. The hosts run sheep in the adjoining fields and we're very hospitable. The view from their yard looked over green fields with rock fences and you could see the ocean and the bay. Breakfast in the morning was excellent and we thought the price of 80 euros for a triple to be reasonable. We enjoyed our stay.
---
"Lovely Stay"
Room was small but perfectly adequate. Owners were very friendly and welcoming and the location was very picturesque! Perfect place to stop for the night on the Slea Head drive. Got a great nights' sleep and had an excellent breakfast…..couldnt ask for much more.
---
"I'll Be Back"
What a fantastic place a warm welcome nice clean and comfortable accommodation excellent breakfast close to the beach and lots of little dead end lanes to explore, Marguerite and Padraig are excellent and knowledgeable hosts who are very well regarded in the local community. Marguerite guided us to Murphy's pub in the village for our evening meal and what a meal, it was a fantastic experience. Highly recommended
---
"Beautiful place to stay, walk and Golf"
On a two week tour in 2003, we passed through Dingle to play golf at Ceann Sibeal and spend time in Bally Ferriter. The B&B is right next to the Links so no need to rush to your tee-time. The rooms were relatively new, natural wood trim, cottage feel. Breakfast was very good. For food and drink, Murphy's and TP's were great.
The Ferriter's were great to spend time with. Many of us in Boston and Dingle have share relatives. When I returned home, I asked a Ferriter neighbor of mine if he knew the Ferriter's from the Cove and my neighbor sure did, being related to them and having spent time on the Links before it became a golf course. Highly recommend this place.